In June 2012 Kevin became President of the The School Library Association. The SLA is an independent charity founded in 1937 to support all who work in school libraries and is committed to supporting everyone involved with school libraries, promoting high quality reading and learning opportunities for all. The SLA believes that every pupil is entitled to effective school library provision.
After serving as President of the SLA (2012-2017), Kevin has now agreed to become one of its patrons, alongside Frank Cottrell Boyce, Tim Bowler, Aidan Chambers, Juno Dawson, Sarah McIntyre, Smriti Halls and Professor Julian McDougall.
Speech and Talks
The text of Kevin's Speech to the Children's Writers and Illustrators Group Conference in Reading is here and his speech to the SLA/YLG/Conference in Windsor is here.
Opening Speech at the Society of Authors CWIG Conference (Joined-Up Reading). University of Reading September 14th – 16th 2012
Ladies and gentlemen, dear creatures:
When talking to a distinguished audience of authors, illustrators and interested parties, and opening their conference at that, one would be well advised to arm oneself by learning a litany of caveats: be bold but wary; be passionate but controlled; avoid clichés and generalisations but by all means engage in wordplay; expect not mortal combat but a fair wallop of brickbats.
Just about the only undeniable truth one can assert about writers and illustrators, musicians, painters, sculptors, artists in all disciplines, is that they are sui generis, they are individualists. Even when they are working in tandem, as children's writers and artists often do, the moment at which a word is committed to page or screen, the moment at which line or wash is drawn or painted, is essentially an individual act.
It follows that you can never be prescriptive about the why or the how of a writer's or an artist's motivation, method and skills. Each writer, each artist, is one of a kind.
This was soon brought home to me as a very young editor in the publishing house of Macmillan, home of Lewis Carroll and Charles Kingsley, Thomas Hardy and Rudyard Kipling, W. B. Yeats – once, when I was twenty-four I met George Yeats in Dublin and spread a great spray of red roses at her feet!
I was able to bring the great Welsh poet R. S. Thomas to Macmillan, and when he sent me his collection H'm – such a wonderful title, it sounds like an expression of doubt, of 'I must think about that', like a clearing of the throat – I offered him a very small list of suggested alterations, mostly no more than points of punctuation. 'Dear Mr Crossley-Holland,' he wrote, 'I thank you for reading my poems and suggesting various alterations. I would prefer, however, to leave my poems as they are…'
Later, when I met him, I asked R. S. – I never dared to call him Ronald – I asked him how he revised. 'I don't,' he said. 'When I write, it's in a state of raised, of heightened awareness. I can't enter into that state again afterwards.' At the time, I was mightily impressed.
When for a while I looked after Alan Sillitoe, I put to him a number of changes. 'You're right, Kevin,' he said. 'But that's how it is. I wrenched this novel out of my guts, and I'm not going to change a bloody word.'
Later, I learned how the poet Robert Graves typically revised one of his almost invariably short, lyric poems up to twenty times. And the way I work is of the same persuasion. I revise and revise and revise and revise. The music of language is part of its meaning; the 'right' word, and the silence surrounding it, are at the heart of the matter. In our mid-twenties, Jill Paton Walsh and I wrote a book together, Wordhoard. Or, rather, each of us wrote five separate stories. Jill tells me that once she came to see me in my Islington house – later she bombed it to bits and used it as the setting for her Fireweed! – and found me sitting dismally on the floor of my study, surrounded by ten different versions of my Battle of Hastings story, 'The Eye of the Hurricane', and each, she says, 'was no better but no worse than the others'.
Years ago, I asked the late Peter Porter to inscribe a copy of The Cost of Seriousness, the wonderful collection of poems written after the loss of his wife.
'For Kevin – With collegiate affection – Peter.'
That's what he wrote. Collegiate, I thought. Strange. But each time I think about it, the more compelling that terse inscription becomes.
Individuals we are, and in some cases individualists, but for the most part we are just as generous-spirited, just as capable and needy as our fellow humans. We have families, we have friends and – if I may risk a generalisation – we are interested in the craft and concerns of our peers. Indeed, this well-patronised conference indicates precisely that. We are collegiate.
Plainly, your and my first professional responsibility is to our craft. However you may first see and follow the star, whatever your journey, my aim and your aim is to 'get things right'. To get the idea, the characters, the story, the pacing, the whole suit of words and images, right.
The first part of your journey is solitary and it's hard graft, if occasionally blessed by a wonderful sense of satisfaction – redemption, almost – when you know you've achieved something (maybe just a few words) strange and inevitable. But the second part involves others: readers, agents, editors and designers and so on. This is the ground, sometime stony, where the ideal and practical meet.
While I know that some writers and illustrators are out-and-out loners, and some are by nature cautious, reticent, shy, nervous, very many of us believe we have a second charge, a second responsibility: to the world of children's books. If this is indeed what we think and feel, and I imagine it's true for most if not all of us here tonight, how can we best discharge it? What are we, individually and severally, to do about it?
During the last couple of months, at different times a number of my friends left Britain expressly to miss the Olympics and the Paralympics. It doing so, they also missed a rather remarkable moment in our cultural history – a moment when very many people, perhaps most people, discovered that, as The Times or Guardian put it (I can't remember which) we had become 'nicer people'. There was a quite palpable and sudden shift in the national psyche, away from day-to-day worrying, complaining and enduring, south towards humour, generosity, vigour, determination, tolerance.
Carol Ann Duffy identified this shift in her poem, 'Translating the British, 2012′: We sense new weather. We are on our marks. We are all in this together.'
What I found fascinating – and instructive – and enviable – was the speedy way in which politicians of all stripes so rapidly closed ranks on the latter of legacy: to guarantee support for our elite sportsmen during the next years leading up to Rio de Janeiro; to review and promote the question of sport in schools (setting aside David Cameron's stupid remarks about Indian dancing, and the lamentable policy of selling off school recreation grounds). In effect, sport stole a march on all its rival claimants for public attention and the public purse, and moved right up the national agenda.
To my mind, our greatest asset is our language – our glorious language, all 60,000 words of it, very largely descended from Latin and Anglo-Saxon.
On one hand:
iamque eadem digitis, iam pectine pulsat eburno…
…first with his fingertips, and now he plays with an ivory plectrum…
Virgil's graceful, sonorous, onomatopoeic lines: precursors of words we at once recognise: digital, plectrum, pulse, ebony.
But on the other hand:
Hige sceal þe heardra, heorte þe cenre, mod sceal þe mare, þe ure mægen lytlað.
Harder heads and hearts more keen, spirits on fire as our strength flags!
Cacophonous, gravelly cadences, checked by alliteration, like waves charging up and playing themselves out on a gravelly shore: these are words from the late 10th century 'Battle of Maldon', and again, there are many words we recognise:
Sceal
– shall (be),
heorte
– heart,
cenre
– keener,
mod
– mood,
mare
– more,
ure
– our.
In broad terms, as many of you well know, the words we derive from Anglo-Saxon (some people say Old English) have to do with the stuff of life: womb, woman, man, earth, sea, ship, plough… Almost all the good, short, tough, quick, keen, fierce, bright, hard-words in our tongue. Almost all the monosyllables!
Yes, it's when we come to ideas and abstracts that we have to delve… have to excavate the Latin and Greek wordhoards.
Of course we've also taken aboard a number of words from Celtic (though surprisingly few given the long interaction between the Celts and Romans and Anglo-Saxons), while a handful of words come from Arabic, Indian, Spanish and so on; but those apart, some half of our words derive from Old English, and half from the tongues of the Mediterranean, the Classical World.
Our language, yes, and the children's books written in it. To the best of my knowledge, there is no body of children's books in any other language to compare with it (which is not to excuse those publishers who, regrettably, go to Bologna and Frankfurt not to buy but only to sell). So what actually are we to do to maintain, let alone raise their profile, and what can we learn from the way in which the Olympic groundswell has been changed into hard currency? Surely the very point of a conference such as this is not only the set-piece sessions but absolutely crucial networking between delegates, purposeful discussion, the exploring of issues and concerns.
Sometimes, I feel as if I'm sargassoed by acronyms. Speaking here at the CWIG conference, as author and President of the SLA, and as fellow of the RSL, not long since an attendee at a conference with members of the SLG, SLS and YLG, I'm aware of dozens and dozens of literary and political societies and organisations, some with national stature, some paddling their own canoes, some reasonably effective, some self-regarding and cliqueish, some frankly pusillanimous, and many with overlapping intentions.
At a time when public libraries are under siege, school libraries are wilting, school library services are collapsing – all of them utterly crucial pitprops to the world of children's books – we clearly need frontrunners. We need spokespeople, men and women who can speak broadly and incisively for our profession.
I know I'm not alone in recognising how important is the work of leaders such as Philip Pullman, Mike Rosen and, ploughing his own critical furrow, Alan Gibbons, who speak to us and for us, not only with reason, provocation and passion, but do so again and again, from week to week and month to month.
Such writers and artists make us better heard. By helping build a groundswell, they also help to create conditions in which our language and children's books move up the public agenda. We dearly need more of them.
The role of children's laureate is a good case in point. Some of our laureates were born for the position, some grew into it, some were ideas driven, some events driven, some spoke out, some did not. Not that the position is a job: it's defined as an honour that recognises an artist's or author's distinction, and he or she is not bound to join any debate at all. But Waterstones or no, saleability or no, it seems quite plain that at this time we should lobby for future laureates who are not only leading writers or artists, but who are ready to speak with authority in public and in private for our whole community: the world of children's books.
And here's a plea. There are plenty of children's writers and artists who would be able and willing to stand as, so to speak, the laureate's team. The laureate's cohorts. Ready to join a think tank; ready to lead events in different parts of the country – so that each region had a laureate-type event every two years; ready to speak out about not only their own work but shared issues. Ambassadors for the world of children's books.
I fear I wasn't much of a reader as a boy. Our Island Story, I think, and not much else.
First I wanted to be a radio commentator. A sports commentator. Yes, said my mother. Good idea. You talk the hind leg off a donkey!
Then, after curating my own little museum in the shed next to the gooseberry bushes, and finding a Roman coin and a great deal of Iron Age pottery and plenty of fossils, and welcoming among my first visitors Jacob Bronowski and the writer Rumer Godden (both of them neighbours) as well as troops of friends, I resolved to become an archaeologist. But no, I soon realised I wasn't enough of a scientist for that.
Next, I harboured hopes of becoming an elite – yes, elite! – tennis player, or a test cricketer; and then, from the age of fourteen to eighteen, drawn by a heady mixture of language ancient and modern, ritual, music, adolescent dream and some deeper longing, I was increasingly drawn to the priesthood, and went up to Oxford to read English but as an almost-ordinand.
I've documented all this in my memoir of childhood, The Hidden Roads – and not only this but hearing my father, accompanying himself on his Welsh harp, singing-and-saying folk stories to my sister and me as we lay on our bunk beds between waking and sleeping; despite which, despite which, so puzzlingly, I borrowed no more than a single book from our little village library, and failed to return it for forty years.
True, I did begin to mend my ways. As a student at Oxford, language, story, poem became crucial to me (along with girls and tennis). I began to write. Immediately after graduation, I joined the House of Macmillan – September 3rd 1962. Just over fifty years ago. (I was number three in the publicity department.)
It took me a long, long time to move to a point where I felt able to write my Arthur trilogy and to place at its heart language, literacy and the power of story because, as one critic succinctly put it, 'stories and storytelling… are central to the process of discovering and building one's identity as an individual.' And in truth, this theme has continued to exercise me as author, and in the papers I've delivered to the SfS – the Society for Storytelling!
In my present Viking sagas, my heroine Solveig's secure knowledge of the racy, ice-bright myths underlies her interpretation of the Christian and Muslim worlds; it enables her to compare, it helps her to grasp that only by finding out, only by curiosity (which is the mainspring of affirmation), and by turning our faces against destructive, fundamentalist dogma, can we even begin to come to understandings and avoid conflict. Only through language can we make peace!
So I'm sure you'll appreciate that I was astonished and much gratified when the (very widely-admired) School Library Association offered me its Presidency. Let me give you a short report from the battlefront.
In the opinion of the SLA, a school library can and should offer the following entitlements: a skilled, trained library practioner with responsibility and time to help children and young people develop the skills needed to manage today's information world (including reading, information, oral and technological literacy);
A safe and secure environment for learning during and outside school hours, with resources and advice available;
High quality, wide-ranging library and classroom resources to support the curriculum;
The chance for children to be valued as individuals thorough access to reading materials which are tailored to support their emotional, cultural, leisure and wider needs, with help from a knowledgeable professional.

After conducting a survey this spring and summer of one thousand (1000) school libraries, both primary and secondary, the SLA identified the main obstacle to achieving these four goals as being: A decline in school budgets in real terms. Booktrust's 2007 survey recommended spending £10 per pupil per academic year on library books in primary schools, and £14 in secondary schools. No fewer than 61% of primary schools and 92% of secondary schools reported a total library spend well below these figures. And this year, this year, one secondary school with more than 2,000 pupils has only £2 per pupil to spend, and one academy with 1500 pupils spends only 31 pence per pupil on its library budget.
Tricia Adams, the outstanding Chair of the SLA says that overall the results of the survey indicate that 'there is less and less of a high quality service being provided for our students' and that 'without the skills and pleasures that reading and researching can give us, we will have a cohort – (that word again!) – a cohort of students lacking essential life and work skills.'
The School Library Association has made the following five recommendations to ensure that all school have equal access to the benefits of school libraries:
1. Government support for trained school librarians in secondary schools
2. Ofsted inspection of the role of school libraries in schools' reading for pleasure and literacy policies
3. Ofsted inspection of the library role in whole-school curriculum support
4. School Library Services offering more librarian-based advice and support services for primary schools
5. Exploration of the ways facilities could be shared, for example between public and school libraries and between groups or clusters of schools
But that's quite enough of statistics and recommendations. I'd like to quote, if I may, just a couple of paragraphs from my first address as President of the SLA – this at the conference held jointly with CILIP Youth Libraries Group and the School Libraries Group in Windsor three months ago:
I admire you very greatly for the work you do, and I will speak up for you wherever I go. You are the custodians of the bottomless storyhoard, the unending river of poems, the building blocks of information. You are custodians of the place where nations, cultures and belief systems meet, all of them founded in language, the subtle, ever-changing vehicle that distinguishes human beings from the rest of the animal kingdom. Do young adults sometimes come back to you, and tell you that a book you once put into their hands made all the difference? I very much hope so.
If this all sounds a bit lofty, how about this? Little children have many of their first delighted, thrilling experiences of story and illustration in your libraries. And yours is the power to lead them, guide them, and later bring them to stories that reflect how complex humans are, and how they embody opposites. If this is the case, why on earth as a nation, a society, do we not put school libraries at the heart of the matter? Why are they not the most important room in the school? To whom must I turn for an answer – you school librarians? Your Headteachers? This Association? Local authorities? County Education Officers? Or government?
If school libraries are impaired, the world of children and of children's books is impaired. So I find myself asking again: What can I do about it? What can we, as authors and illustrators, do about it? If we believe ourselves to have responsibility to the world of children's books, how are we, individually and severally, to raise its profile and to ensure that it prospers?
Very many of you, I know, are already doing – and many of you will have your own ideas to supplement mine. But here are just half-a-dozen collegiate suggestions.
Meeting many school librarians at the Windsor conference, I think I realised for the first time how very isolated many of them feel – and how undervalued they feel.
There are two simple ways in which we can try to offset this. Many of us, maybe most of us, occasionally, regularly or very often make school visits. May I suggest that as a matter of course we should talk to the librarian or teacher with responsibility for literacy, and have a good look at the library – or what passes for the library?
I know! There are many, many schools where the 'library' consists of no more than a few dusty shelves of outdated books – probably lining some corridor. And secondly, I wonder how many of you write to head teachers after your visit to praise the librarian or whoever is responsible for the library. As the librarian Carol Webb said during a fine seminar, head teachers like appreciating their staff, and , especially in secondary schools. they often scarcely know what their librarian's workload consists of. So that's a couple of ideas.
I find it absolutely ridiculous that at this late stage in our culture, we are still having to argue for language and literacy – the very bedrock of our culture. How can it be that Ofsted inspectors are not required to assess school libraries and the work of the school librarians? I know plenty of schools where the inspectors have not even bothered to step into libraries.
No, the DFE doesn't want to be seen handing down one decision after another. Yes, Michael Gove is anxious to be seen to be giving Ofsted and giving schools autonomy. But this is absurd, isn't it? Shouldn't we be making a much bigger noise about it?
Paradoxically, the current weakening of the school librarians' position comes at a time when she or he is being asked to do more, much more, and to act as a kind of broker between the book as physical artefact and the Digital Age. Last night I was at the Woodstock Blenheim Palace Festival (my dinner was cooked by Ken Hom, no less) and this morning I walked with an old friend – a BBC radio drama producer and teacher – in Blenheim Palace's magnificent estate. He spoke passionately about the great, great danger of the digital age: that children tear off in search of quick-fix information, rather than carefully reading and allowing information, knowledge, wisdom, to enter them.
To enter them; to be absorbed; digested – before they go on to more specialist research, before they genuinely need Information Technology.
What else can we do? How many of us have been involved locally or nationally in the appalling situation in which public libraries find themselves – no doubt we'll hear more of this from Alan Gibbons? How many of us have written about some aspect of the world of children's books to our MPs? How many of us are parents with young children, or school governors, and how many argue that school libraries really do need to be part of the school budget, and not semi-sustained by an endless round of jumble sales, readathons and the like?
I know, I've exceeded my half-dozen suggestions already, and of course it wouldn't be difficult to add more to this list; for although the world of children's books plainly needs more funding, its welfare isn't just about funding. It's about community awareness. National awareness. It's about the raising of our profile.
Diffident, anxious, uncertain as we often are, we nonetheless believe in the very great value of what we do – the personal value and the value to society. May we agree on that?
Then let's go out and proclaim it. Each on our own, and all together.
Address at the SLA/YLG/SLG Conference, Windsor, June 2012
There's a Viking aphorism which goes: 'A wise man is wary. He listens with his ears, watches with his eyes, and keeps his mouth shut.'
So you may well doubt the wisdom of this new President opening his mouth so soon after his election. But I promise to keep this hemi-speech lean, mean and purposeful.
It will fall into three parts of roughly equal duration. No more than nine minutes each. Plus a top and tail. Thirty minutes in all.
In the first part, I'm obeying Tricia Adams – who doesn't! – and telling you a mouthful or two about myself; who I am, how I may perhaps fit in, why books are crucial to me, and what drives me as an author.
In the second, I'm going to give back to you, in a reflective and ad lib sort of way, some of the matters I have heard raised, discussed, repeated during the last couple of days. Please let me remind you that I'm not a school librarian, not a librarian of any stripe, and that I really am very much in learning mode, meeting school librarians and people connected with school libraries, listening, asking – learning – but also let me assure you that if I survive my presidential span (three years), I certainly hope and mean to bring substantial ideas to the table.
Thirdly, I'll offer you a few further observations of my own, in some cases simply putting questions that I sense need to be answered. These are the first impressions (and of course first impressions and fresh viewpoints do have their uses) of an outsider. But they're also those of a man utterly committed to your cause, who will learn his trade, and fight tooth and nail for it.
About Myself
The son of a composer and musicologist (whose teacher was John Ireland) and a nationally-known potter, Joan Cowper, and the elder brother of a would-be dancer with Ballet Rambert, I was born into an artistic family, and lived for most of my childhood in the Chiltern Hills, not so far from here.
But I had little appetite for reading and, rather curiously, neither my parents nor my teachers got onto my case. I have owned up to all this – well, I've documented it! – in my memoir of childhood, The Hidden Roads.
I could report that the first two school libraries I can remember, and the little public library in the village where I lived (it was a barn, right opposite Rumer Godden's cottage) were poorly lit, poorly stocked and seedy. They were. But the truth is that like all too many boys aged, what, 8, 9, 10, 11, 12, I was more interested in sport, outdoor activities, girls, than in reading. The notion and experience of 'reading for pleasure', to appropriate OFSTED's current catchphrase, somehow completely escaped me.
And yet… and yet… I listened spellbound to the folk-tales my father told my sister and me, night after night, accompanying himself on his Welsh harp, as we lay on our bunk beds; I kept assiduous, talkative diaries; and aged 12, I embarked on a modest enterprise, writing 'A History of the World' – after seventy-seven pages I accepted that I'd rather overdone it and scaled it down to 'A History of the British Isles'. I wrote this sitting in the back of car while my mother conducted social surveys around the district. The back of the car! While you were attending to your ablutions and orisons, that's where I sat and wrote this speech at 6.30 this morning! When I was 16, I began to write poems, ironing out knots in the grain of things; and I was increasingly conscious of being spellbound by the music of language.
Perhaps this is partly why, after first hoping to become a radio commentator – my mother told me I could talk the hind leg off a donkey! – and then an archaeologist, I decided the right career for me would be the priesthood. Sonorous language… the power of ritual, asserting continuity, and the glorious KJV.
I'm not sure that I think Michael Gove handled the gift of a copy of the KJV to every school in Britain in the best way, but of course I'm with him all the way in hoping children, teenagers will one way or another tune into it and not its second-rate latter-day successors. I wrote a short poem about this – here's the second part of it:
Again we sang;
then an officer trundled up
to the savage lectern
with his baby food bible.
O ye gods…
Divine authority,
our fathers' cadences,
and their fathers' fathers,
shuffled off.
Committee speak!
The work of the worthy
with flat feet,
fearful of fire and unknowing.
In the terrible gloom
you lowered your head,
accomplice
while the Word
was betrayed by the word.'
In Latter Days
It was as a student at Oxford that language, story, poem, books, became so crucial to me. I began to translate from Anglo-Saxon.
Hige sceal þe heardra, heorte þe cenre, mod sceal þe mare, þe ure mægen lytlað.
Harder heads and hearts more keen,
spirits on fire as our strength flags!
(Translation Workshop: Grit and Blood)
I began to understand the reasons why our language, our great word-hoard, derived half from Anglo-Saxon and half from Latin, has more than twice as many words as any other language, and how all the good, short, tough, bright, fierce, keen words, the words to do with the stuff of life, come from Anglo-Saxon: womb, woman, man, earth, sea, ship, plough… And I began, seriously, to write. By day, throughout my twenties, I worked as publicist, then as editor, for the publishing house of Macmillan; and by night I wrote stories for children. My first books were very free retellings of medieval romances, Havelok the Dane and King Horn, and of traditional tales – myths, legends and folk-tales – often stories that I'd heard first from my father.
At the same time, I was writing and publishing poems, and translating Anglo-Saxon poetry, including Beowulf. While Seamus Heaney was making his own version a generation later, we compared notes.
By the time I was approaching sixty, I'd rather regretfully set aside any intention of writing full-length fiction. I thought I just wasn't cut out for it. But in finally addressing the matter of how to retell some of the Arthurian legends – some well-known, some little known, the Himalayan range of Western traditional tale – I found myself caught up in the merry dance, the intricate jigsaw of a novel: and the result was The Seeing Stone, and its successors At the Crossing-Places and King of the Middle March.
When I read the reviews of my trilogy, and then an MA thesis about it, many of them confirmed what I suspected: that stories and storytelling are the 'defining motif of the trilogy,' because they're 'central to the process of discovering and building one's identity as an individual, and as a member of a historical, of any community' (Juliette Saumande). To my mind, the trilogy turns round matters of language, literacy and the power of story.
These crucial themes have continued to exercise me as author and interpreter, in the papers I've given to the Society of Storytelling. And in my present Viking sagas, Bracelet of Bones and Scramasax, my heroine Solveig's secure knowledge of the racy, ice-bright myths underlies her interpretation of the Christian and Muslim worlds in which she finds herself; it enables her to compare, it helps her to grasp that only by finding out, only by curiosity (which is the mainspring of affirmation), only by turning our faces against destructive, fundamentalist dogma, can we even begin to come to understandings and avoid conflict. Only through language can we make peace!
There, then. That's quite enough about me, and my writing.

About this Conference
Well? Have you enjoyed this conference?
My own sense is that it was eagerly awaited and has lived up to that anticipation.
I suppose I hadn't fully appreciated the sense of isolation, or semi-isolation, shared by many school librarians, all the more pronounced at a time of, frankly, governmental disrespect.
But conferences sometimes go out of kilter, even sour. They go wrong. And happy, fruitful conferences don't happen by chance. They are long-planned, the outcome of thought and experience and plain hard graft. So may we acknowledge the wonderful work of our many organisers?
Do you know that this is the first joint SLA/YLG.SLG conference since 2000, which was itself the first joint conference? My impression is that the interaction has been fertile, and that the whole may somehow have been greater than the parts. So shall we do it again? Will you make your opinions heard to your own leaders?
If you've taken advantage of everything on offer, the last two days will have been jampacked, indeed intense, beginning with early morning (and for some delegates pre-breakfast) workshops, ending with animated informal exchanges of ideas, storytelling, wine.
So what, actually, are you going to take away with you? Will you pause somewhere, sometime, soon, and ask yourself that specific, simple question? Will note down your answers? And return to them? I think they will embolden you.
As you know, this conference has combined superb workshops and panels, addresses, receptions in honour of authors and illustrators, networking and performances – including the electrifying Atinuke ('Missa Tortoise, he say…') and Tony Mitton's wise and shapely poems. But yesterday, there were lots of children here too, brought along by parents unable to leave them at home. I found myself thinking it would be no bad thing to put on a children's event next time round – freeing mothers and fathers to concentrate on the matter in hand, and nourishing in its own right. It wouldn't be difficult to arrange.
On all sides, I've heard confidence and worry. Both. Most of the confidence derived from personal initiatives and successes; most of the worry from diminishing budgets and the consequences of the Digital Age.
To take just a couple of examples: I was impressed with what the librarian at Oundle School, Leigh Guirlando, told me about how holding literary festival events in her library, open to the general public, radically changed students' perception of that library. 'It became,' she said, 'a sophisticated, intellectual place to be. A cool place to be'. This may seem obvious enough. Maybe not. I've just opened a literary festival in an Academy school that wasn't joined up at all, in which the school librarian took part only as a member of the audience. Irrespective of cause, this is plainly not desirable.
My second example was voiced by a couple of girls' High School librarians. They're worrying over how, with the advent of Kindle, they can know what girls are reading, and are not reading, when they're no longer borrowing from the school library or reading in the library. And if they don't know, how can they guide these students? This whole new dimension is a subject I'll return to at a later date.
In an important discussion on 'Reading in the Political Spotlight', conducted before a packed audience, the panellists, chaired by Simon Mayo made a number of trenchant points. Let me remind you of just of a few of them:
'We've got to get to know the people who write things in government departments. It takes time but we've got to change minds. We've got to explain that getting the right book to the right child is crucial, and this is what librarians do.' (Annie Mauger)
Each civil servant is a new civil servant.' (Miranda McKearney)
'Government should not interfere with specialists.' (Aidan Chambers)
'Learning what it is (ie what happens as a result of it) comes before reading skills.' (David Reedy)
'The real issue is joined up government'. (Anne Mauger)
'It's crucial to work with teachers, not for teachers, to deliver the curriculum.' (David Reedy)
'We need research on the social and economic benefit of libraries.' (Annie Manger)
"There's a crying need for a full-funded School Library Service.' (David Reedy)I am an author, and of course I was keeping my ears open throughout the conference for ways in which authors can usefully contribute to the work and world of the school librarian. To end this second section of my talk, here's just one instance.
In her fine workshop, 'Escaping the Echo Chamber' or 'Librarians are Leaders of Learning', Carol Webb reminded us 'how Head Teachers love letters'! She exhorted her audience to encourage visiting authors and book people 'to be shameless' in writing to Heads, singing the praises of their libraries and librarians. And of course, she was making a crucial point about how schools and governors often scarcely know what their librarians really do, and do not adequately value or reward them.
For myself, I left the workshop vowing to make a new start by writing to a large clutch of Head Teachers whose librarians have so generously helped to educate me during the past weeks and here at this conference.
Cornerstones and Questions
When I was invited recently to say something about school libraries by the Society of Authors in support of a letter to Nick Gibb, the Schools Minister, this is what I wrote:
'A well-stocked, well-furbished, well-administered and well-patronised library – a place to inspire the imagination and provide information, a place of delight – should be the cornerstone of every primary and secondary school in our country. If only the government would full-bloodedly espouse and implement this mission, they will be making a profound statement about their commitment to educational standards, and to what it actually means for a society to be civilized. Here's a common cause, and an investment in the future, if ever there was one.'
This is precisely what I believe. A good school library, with all that this implies and entails, is the hallmark of a civilised society.
It follows that I admire you very greatly for the work you do, and I will speak up for you wherever I go. You are the custodians of the bottomless storyhoard, the unending river of poems, the building blocks of information. You are custodians of the place where nations, cultures and belief systems meet, all of them founded in language, the subtle, ever-changing vehicle that distinguishes human beings from the rest of the animal kingdom. Do young adults sometimes come back to you, and tell you that a book you once put into their hands made all the difference? I very much hope so.
If this all sounds a bit lofty, how about this? Little children have many of their first delighted, thrilling experiences of story and illustration in your libraries. And yours is the power to lead them, guide them, and later bring them to stories that reflect how complex humans are, and how they embody opposites. If this is the case, why on earth as a nation, a society, do we not put school libraries at the heart of the matter? Why are they not the most important room in the school? To whom must I turn for an answer – you school librarians? Your Headteachers? This Association? Local authorities? County Education Officers? Or government?
My Minnesotan wife Linda often excites and upsets me by describing how wonderfully well school libraries are furbished and stocked in the United States – how fully they're used by teachers – how school librarians are on the same pay scale as teachers (and thus feel properly valued). From my own experience at the American School in London, and the Lakenheath airbase schools, I can vouch for what she says.
Not only are British school librarians beleaguered but in many schools they are depressed because they're just not properly valued. So how are we to change a culture of struggle and anxiety and disappointment to a culture of hope and pride? What are the steps we have to take?
Can you remember your first school library? Your second? Was it, like mine, seedy? Or was it well-stocked, well-lit, vibrant? Can you remember your school librarian? The new school library design of the year award is well and good (we should always honour better and best) but isn't there a crying need for funding for the refurbishing and restocking of thousands of lesser, modest, needy school libraries? If so, where is this funding to come from if not from the central school budget? Isn't there a limit to what can be achieved by endless quizzes and readathons and jumbles sales and the like? And if this seems like pie in the sky, what about arguing for resources from the school budget (and so ultimately of course from government) to enable schools to have access to expert opinion on how to refurbish, how to restock, so that at least money doesn't go to waste? (And here, I note in passing that obligatory investment in group and guided reading is no substitute for wide-ranging, well-stocked shelves).
Let me just put myself and you another few questions.
How much are we doing to compare and contrast our situation with public libraries and public librarians? And how much are we doing to work with them? Can we do more? Isn't this crucial when co-location is on the agenda?
To be a school librarian is a profession, not a hobby. Is it true that schools and councils are too often asking too much of literacy advisors and put-upon, but often kind-of helpless parents? What can we actually do about this? Isn't it realistic to hope that every primary and secondary school should be obliged by statue to have a school library and librarian? Yes, it is. We should and will fight for it.
Chapman (of Chapman's Homer) said of teachers that the gift of teaching implies 'a need and a craving'. But isn't this also the case of school librarians? Are you doing enough to tell us just that, and to spell out why? Sometimes I have the sense that you librarians, 'nice' as you are, need to speak out more loudly, to proclaim your skills, to be stroppy sometimes, certainly to offer more feedback to your leaders in the SLA. They would welcome it.
Our members are our lifeblood, crucial if we're to spread the word, carry the word, and not in this beleaguered time be on the defensive. So how about each of us undertaking to find a new member of the SLA (YLG, SLG) by this time next year. And who might be likely new members? New Academies, for instance?
OFSTED keep advocating reading for pleasure. But who is actually advising them on what children should be reading – and I don't mean simply a list of 50 books. Should the SLA become involved in this?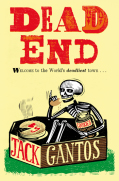 In all the kerfuffle about new ways of reading and the Digital Age, let's not forget the book as physical artefact! Here's a very recent and very entertaining one, in Jack Gantos' Dead End in Norvelt, this year's Newberry prize winner, now longlisted for the Guardian Children's Book Prize.
"You know I hate reading," Bunny said.
"You want to know a secret?" I asked.
"Sure," she said half-heartedly.
"I love to sniff the insides of books," I said in a whisper."Because each book has its own special perfume."
"Now you are getting even more weird," she whispered right back, and stepped away from me.
"Let me show you," I said. I grabbed Thirty Seconds Over Tokyo, flipped it open, shoved my face into the gutter of the book, and inhaled deeply through my stuffed-up nose. When I lifted my face from the book I swooned and said dreamily, "Ahhh, that was a good one. Now you do it."
She reluctantly grabbed Custer's Last Stand, flipped it open, and stuck her little curled-up cashew-size nose into the gutter. She gave it a good sniff, then dropped the book and staggered against my dresser. "History," she said, gagging a bit, "has to be the worst smell in the world. Maybe that's why you die and people say you are history they mean you smell as bad as a rotten old dead person."
"History isn't dead," I said. "It's everywhere you look. It's alive."
"Well, I'm looking at history," she said, pointing at me. "You used to be a friend, but now you stink as a friend! I came here to give you a second chance and you make me smell the crotch of an old book."
Lastly, are publishers doing enough to support the SLA/YLG/SLG? And are authors and illustrators doing enough to support these associations? In each case, I think not. So what more could they and should they do? This is a topic I mean to return to when I open the Society of Authors' CWIG Conference in September.
My position in honorary, not executive. Many delegates have asked me, 'What is your job? What, actually, are you going to do?' For the moment, as a learner driver, may I turn the question round and ask you, 'What will you have me, your willing President, try to do?' Will you write to me encourage me, correct me, censure me, educate me?
As Aidan Chambers told me in his characteristically gnomic way: 'The School Library Association has chosen you as President for some reason. Be true to yourself and you will give them what they need – even if they don't yet know they need it!'
This conference has been about LIGHTING THE FUTURE. So here are a few fire images:
School librarians are akin to Jubilee beacons and Olympic torchbearers: looking back, looking forward. The are the carrier of the word.
Authors and illustrators visiting schools should think themselves as visiting arsonists, not visiting firemen.
In the view of many of us, the Government is fiddling while Rome burns.
That concludes my speech and our fine conference – with all its points of ignition.
As my old friend Charles Causley used to say: 'Onward!'