Arthur, the Always King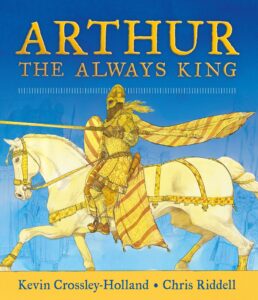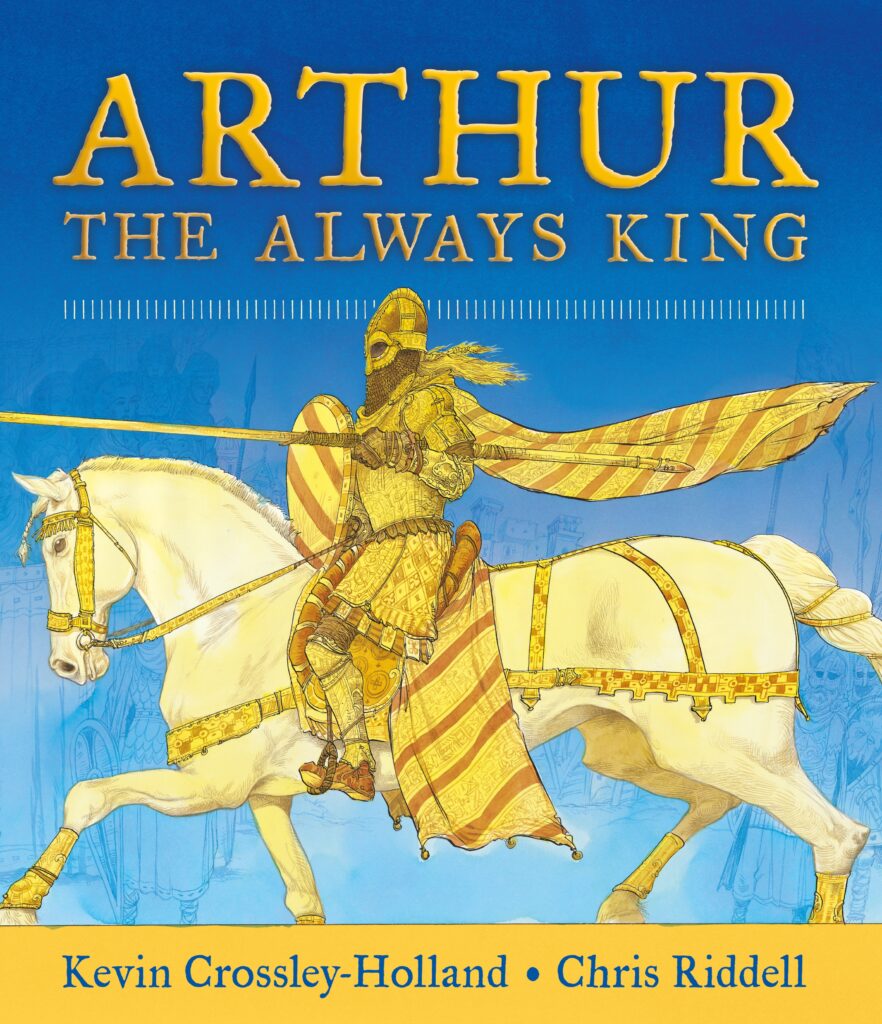 This thrilling new book from Walker Studio was published in November 2021.  The definitive retelling of the Arthurian legends by Kevin Crossley-Holland with glorious illustrations on every page by Chris Riddell.  
How to tell the stories of King Arthur? What of the stories to tell? Most people will know the story of the sword in the stone, of how Arthur received the sword Excalibur and of his death – but what about the stories in between? There doesn't seem to be an easy narrative path. Indeed, Arthur is not necessarily a main character for these are the stories about individual knights who made up the Company of the Round Table. They are stories full of tensions, magic, monsters, violence, love and loyalties. They are not children's stories – though children will always thrill to the excitement of each quest without worrying about the more complicated emotions involved. Indeed, there are excellent retellings that are aimed at a younger audience. Kevin Crossley-Holland, however, takes the medieval originals in all their complicated splendour and retells them with his poet's ear for language, capturing the character of that chivalric past while being contemporary and immediate. He also organises the stories to follow a consistent path, each quest reflecting the ideals of the Round Table; ideals that have to be proved through trials which may fail for the protagonists are fallible. In this way he is able to include the narrative of the Fisher King – a story that resonates powerfully today. The author makes sure we meet real people with real emotions, passions, hopes and fears. Perhaps, this is the reason the Arthurian cycle has such a powerful hold on the imagination; this is not a world peopled by gods.
The world conjured by Crossley-Holland is then brought to vivid, visual life by the illustrations from Chris Riddell, images which appear on every page, sometimes as marginalia  – pen portraits of the characters, sometimes as coloured borders surrounding the text, frequently vibrant single page or double page spreads. Contemporary in style, full of character capturing without apology both the violence and the tenderness they enhance and extend the narratives for a modern audience. The colour palette ranges from simple line drawings to spreads where a single colour dominates – gold, green, blue , red – picking up and emphasising the emotion or action of the event illustrated  and spreads where the palette is diverse to capture the atmosphere of the scene. The marriage between text and image is a dynamic one and the tales burst off the page.
These are not for the very young; these are (as they would have been in their original telling) for an older audience – adult even. They are stories that have stood the test of time and have inspired many others. It is not the adventures; it is the characters and above all it is Arthur, the flawed ideal, the Always King. Kevin Crossley-Holland and Chris Riddell bring them to life for today.                                                             
Ferelith Hordon, Books for Keeps
The Arthur Trilogy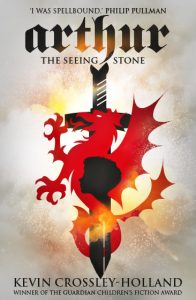 Before I wrote my Arthur trilogy, I tried several times to map a route through the attractive, perilous world of Arthurian legend. First, I retold little-known legends but my versions were dry as dust and I threw them away; then I attempted to write a novel about Sir Thomas Malory in prison incorporating a number of legends; I wrote six BBC radio plays; and then I was commissioned to write simple, straightforward retellings for children, grouped according to topic  – magic, love, kingship, and so on. But I wanted to challenge myself, and grow, or perish in the attempt.
One day I picked up the lovely hunk of obsidian on my desk that has long served as a paperweight. I held it in the palm of my hand:
"Take it!" said Merlin.
When I stared at the stone, I could see myself inside it. It was black of black, and deep, and very still. Like an eye of deep water.
"It is made of ice and fire," Merlin said. "Its name is obsidian. The stone is not what I say it is. It's what you see in it."
What if, I thought. What if… What if I were to write two stories in tandem? One would be a historical novel, in which a boy, eager to serve as a squire and to go on crusade, is given this piece of obsidian; and one would be the stories, the Arthurian legends, that this boy sees in the obsidian. These legends, I thought, would anticipate and reflect his own eagerness and ideals and anxieties and passions and sorrows. His own rites of passage. After all, as William Caxton (the first printer of Malory) wrote of Le Morte de Arthur in the 15th century, 'Herein may be seen noble chivalry, courtesy, humanity, friendliness, hardiness, love, friendship, cowardice, murder, hate, virtue, and sin. Do after the good and leave the evil.'
What, I wondered, should I call this boy? Arthur? Yes, let my Arthur discover his namesake in the stone. So when and where should the historical strand be set? At the end of the twelfth and beginning of the thirteenth centuries, I thought, because this is precisely when King Arthur was about to enter the literary mainstream and become the pan-European hero; and in some potent borderland, because my young Arthur will be crossing from childhood into adulthood, and because there will be a continuous interplay between the actual world (rough, gruff, tough, early medieval England) and the imaginative world of Arthurian legend. I didn't have to think twice: I knew the setting should be the magical Welsh Marches so rich in Arthurian association, here secretive, there expansive, looking east to plainspoken England, looking west to dreaming Wales.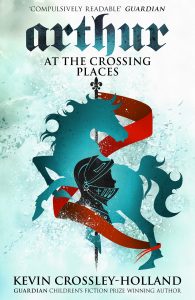 I began to research, and to plan. I immersed myself in books not only about the fabric of medieval life but, so much more difficult to get at, the temper and imagination of the medieval world.
I read Le Ménagier de Paris's domestic advice to his young wife and contemporary accounts of the crusades not only by Villehardouin and Robert of Clari but by Islamic writers. I read and reread Geoffrey of Monmouth, Sir Thomas Malory, Chrétien de Troyes, the lais of Marie de France, Perlesvaus, Culhwch and Olwen, the Vulgate Version, the anonymous Alliterative Morte Arthure, ranging further and further afield in search of likely candidates. But I also read historical fiction for children by living writers, and if there is one book that set me on fire and emboldened me to write in the first person, it is Karen Cushman's wonderful Catherine, Called Birdy.
I visited museums, national and local, sometimes haphazard and dusty. I talked to medievalists, especially my generous friend (and Arthurian scholar) Richard Barber, author of the recently published The Holy Grail. I visited and revisited places in the Marches, in particular Stokesay Castle, the fortified manor I adopted as my Caldicot, as well as Venice and Zadar in Croatia where, in one of the most disgraceful episodes in the disastrous Fourth Crusade, Christian crusaders laid siege to a Christian city. Zadar (once known as Zara) is the theatre for much of the action in King of the Middle March.
As I began to get to know my Arthur de Caldicot, and to think about the legends he would see in his obsidian, it soon became clear that I was letting myself in not for one book but a trilogy. Frankly, this scared me. I had only recently concluded that I wasn't capable of writing a novel, and now here I was proposing to write three. But I also saw there was no way round this if I were to explore in some detail the fabric and temper of medieval life and to engage full-bloodedly with the three phases of Arthurian legend: that is to say, Arthur's childhood, the glory of Camelot, and Camelot's decline and fall.
The Arthur trilogy has now been published in twenty-five languages and has sold almost two million copies. The first book, The Seeing Stone won the Guardian Children's Fiction Award, the Tir na n-Og Award, and the Smarties Prize Bronze Medal, and was followed by At the Crossing-Places and King of the Middle March.
Orion has also published the trilogy in their adult Phoenix editions.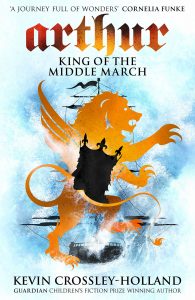 '… as bright and as vivid as the pictures in a Book of Hours. Deep scholarship, high imagination, and great gifts of storytelling have gone into this: I was spellbound.' Philip Pullman, The Guardian Children's Book Supplement
'This is astonishing… a book that lasts has to create a world so real that you can run your fingertips over its walls, feels its morning frost bite at your throat, and remember the people who lived there for a lifetime. Crossley-Holland has done it and I am so, so jealous.'              Anne Fine, Children's Laureate
'A journey full of wonders, a journey into a different time, a journey into a famous story, told so brilliantly that you can taste and smell it on every page… The Arthur     of this story moves softly into one's heart.'                                                                                                                                           Cornelia Funke, author of The Thief Lord
Gatty's Tale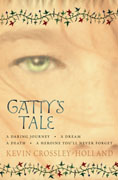 Kevin's account of Gatty's Tale has just been reprinted by Orion Books.  Gatty is perhaps the most loved of Kevin's heroines.
In the year 1203, nine companions set out on a great pilgrimage. The journey  "on foot, on horseback and by sea" is fraught with danger. Not all of them will come home.
Among them is a girl called Gatty, whose whole life has been spent working in the fields, who has never been more than a few miles from home, who knows hunger and hardship and little else. Bright, eager and resolute, she is at the heart of this enthralling novel that sweeps across Europe towards Jerusalem, carrying the pilgrims through great highs and lows and knuckle-biting dramas.
Thieves and conmen; a vicious attack; storms and precipices; broken limbs and a heartbreaking bereavement; these are the challenges and terrors the pilgrims must face. But this is also a story of friendship and loyalty, bravery and sacrifice. Gatty's curiosity and reckless impulsiveness land her in danger but also open her to new people and new ideas. Passionate with hope and love and longing, she is transformed by her experience, and discovers in herself the capacity to be far more than the simple field-girl she once was.
Will she reach Jerusalem? Will she return home, and see again the Welsh Marches and the one person she can tell her heart to?
This is the most marvellous of Kevin Crossley-Holland's novels. It paints a picture of the medieval world, of Christians and Muslims, the great and the humble, that is dazzlingly vivid, humorous, and full of startling insights. We come to know the pilgrims intimately, as we listen to them bickering and praying and fearful and joking. And in Gatty  –  beloved already by readers of the Arthur trilogy "we meet a living, breathing girl who must surely rank as one of the great fictional heroines"
The hardback was published in October 2006 and the paperback in September 2007.
'Kevin Crossley-Holland's depiction of the medieval setting is meticulous, but ultimately this is a novel about heart and song, with the capacity to lift the spirits and move to tears.'
Bookseller

'Crossley-Holland's writing is superlative, bringing the medieval world sharply into focus. This really is a historical novel of distinction.'
Publishing News

'This is an epic, sweeping book, perfectly realised. Crossley-Holland doesn't put a foot wrong. The language is spare and direct, never flamboyant, and yet it is energetic, vivid and always dynamic in Gatty we find a heroine we really could follow to the end of time and back again.'
Thebookbag.co.uk
'Readers will be enchanted by this rich and fascinating book. It will gladden their hearts, test their compassion, fuel their thinking and challenge their assumptions about faith, life and humanity.'                                                                                                                  Write Away
'one of our most acclaimed and successful children's prose writers.'
The Independent
'Chapters are wonderfully crafted, short and accessible… Passages on Gatty's experiences in London, Venice and Jerusalem are startling in their beauty and musicality.'
Books for Keeps

'Crossley-Holland's taut, gutsy, ever-inventive prose lifts the Middle Ages and all its sights, smells, privations and wonders off the page. This is a classic odyssey and a crossover novel that both adults and young people will cherish.'
TES
'As ever, Kevin Crossley-Holland writes with his special blend of the precise, the poetic and the demotic, and imbues his tale with the colour, freshness and vigour of a Renaissance painting. And, again, his instinct for that characteristic medieval amalgam of the spiritual and the earthbound is unerring. But this is Gatty's book. Graceful, homely, profound, beautiful, strong, dignified, and Everywoman: a great literary creation. Her presence lingers, like a perfume.'
Carousel
'a masterful celebration of the medieval world…Crossley-Holland stitches a tapestry of 13th-century art that will long adorn the wall of imaginative minds.'
Oxford Times
'Gatty, the feisty farm girl, stars in her own adventure, Gatty's Tale. She is an engaging heroine, funny and self-reliant, as always. Rich in historical detail, this impressive book takes her to Jerusalem on a 13th-century pilgrimage. A very satisfying read.'
Daily Mail
'Crossley-Holland is something of a wizard when it comes to evoking the texture of everyday medieval life… Gatty's Tale is a lovely addition to [his] magical re-imagining of the medieval world.'
The Guardian
'It can't be long before the name Kevin Crossley-Holland is uttered in the same sentence as 'national institution'. His writing is evocative, lively and sharp; he brings history to life on the page so well that readers barely realise they are learning as well as enjoying fiction… There are moments when your eyes will brim with tears and when you feel inspired by such an audacious exercise to praise God. Throughout, you will be swept away.'
Birmingham Post
'skilfully wrought and compelling… [Gatty's] transformation from ignorant peasant to accomplished and educated young lady is encapsulated exquisitely in the image of her gorgeous silk gown emerging from he cocoon fo the rough, grey material of her pilgrim's cloak as she is reunited with Arthur in the aisle of the church.'
Inis
'The heroine of this novel belongs to a medieval world as luminously coloured, as closely linked to nature and as drenched in spirituality as the illuminations in a book of hours…. The medieval perception that the pattern of Christ's life is deeply imprinted on time and human life comes across beautifully.'
The Tablet
'The weight of research undertaken by Crossley-Holland is palpable… his descriptions of life on the Marches, across Europe and the Middle East resonate with grubby realism… However… the author infuses the saga with enchantment.'
The Herald (Glasgow)
Heartsong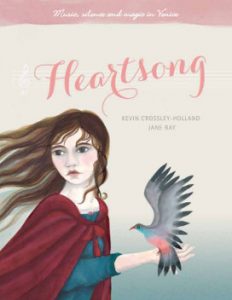 Music has played a crucial part of each of our lives, and it's at the healing heart of our mute heroine Laura's life. Heartsong our book is called, and our own heart-song is what it is.
'Crossley-Holland's limpid prose matches Ray's diaphanous watercolour images perfectly, evoking 18th-century Venice in all its gaudy grandeur and bringing to life someone who would not otherwise have been even a footnote in history.'
The Financial Times
'Vivaldi's Four Seasons provides the background to an elegant story of a mute girl's discovery of her voice.'
The Irish Times
'A ravishing object and a touching poetic tale.'
                                                         The Sunday Times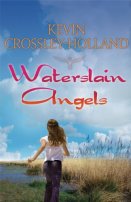 After she had read the first book in my Arthur trilogy, a distinguished writer-friend wrote to me saying how surprised she was because she didn't think I had it in me to devise an intricate jigsaw or to lead readers on the elaborate dance of a novel. Just so!
True, I did write one-and-a-half novels as a student (one was about Anglo-Indian relationships) now in the Brotherton Collection; and true, my first two books for children were such free retellings of the 13th century romances Havelok the Dane and King Horn as to justify being called fiction. But all the same, their plots and psychological dramas derived from their medieval authors.
In 1968, Jill Paton Walsh and I wrote Wordhoard, a collection of ten Anglo-Saxon stories for children, and were bucked by Alan Garner's praise for them. And then, in my early thirties, I wrote three short stories about an Anglo-Saxon boy (The Sea Stranger, The Fire-Brother and The Earth-Father), subsequently published as one (still short) novel, Wulf.
My next excursion into fiction was a short ghost story, Storm, set on the north Norfolk coast. To universal astonishment, this was awarded the Carnegie Medal. My great good fortune was to be in the right place at the right time, when there was a powerful lobby for the recognition of writing for younger children. What this unexpected recognition gave me was confidence – the self-belief to go further than before, and the knowledge that people would be likely to read what I wrote. But not, for all that, the confidence or even the desire to write full-length fiction.
So I came to the fiction table late, and somehow despite myself. I wanted to find a valuable and revealing way of approaching Arthurian romance and my solution was the Arthur trilogy: historical fiction incorporating, anticipating and reflecting legend.
So purists could well say that Gatty's Tale, in which a village girl makes a pilgrimage in 1203 from the Welsh Marches to Jerusalem, was really my first full-length novel.
Waterslain Angels was my first novel set in north Norfolk. Two children set off in pursuit of the angels missing from the hammerbeam roof in the local church, but as they follow one clue after another, they're up against stiff competition and life-threatening hazards.