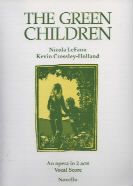 Kevin Crossley-Holland has written the libretti for two operas by Nicola LeFanu, as well as collaborating with a number of other composers on carols, song cycles and larger scale choral works.
The first opera was The Green Children (1989), commissioned by King's Lynn Festival supported by English National Opera's Baylis programme. This full-length opera for children is based on a haunting East Anglian folk tale.
'a piece of ravishing beauty: its text shimmers from end to end with incantations, children's rhymes and its riveting medieval legend. LeFanu's inspired music encases a rich variety of styles and proved a sheer joy.                             'The Times Educational Supplement
Since its premiere, The Green Children has been performed in St. Paul, Minnesota (conducted by Philip Brunelle); Bristol Opera Society; York University; Buxton Festival (a full opera house production); and most recently at Summer Music on the Shannon in Limerick in Ireland.
Commissioned by the Aldeburgh Festival, Crossley-Holland's second opera with LeFanu was The Wildman, also based on a medieval East Anglian folk tale. The opera explores language, identity and intolerance – the title role was sung by the baritone Gwion Thomas. Following its premiere in 1996, it has been performed at Bury St. Edmunds, Oxford, Huddersfield and at the St. Magnus Festival in Orkney.
In addition to these works, Kevin wrote the libretto for The Sailor's Tale, a short opera revolving around the character of Nelson, composed by Rupert Bawden. It is scored for the same orchestral forces as Stravinsky's The Soldier's Tale, with the addition of a children's chorus, and was first performed by the Yorke Trust in 2002. It is available as a CD(NMC D093).
Kevin's poems were first set to music when he was a student at Oxford by James Harpham, and then by Sir Arthur Bliss (A Knot of Riddles, 1964). Like Bliss, William Mathias used Crossley-Holland's translations for his Riddles (1992) while James Callahan set his version of The Dream of the Rood (1994), Andrew Simpson drew on the Anglo-Saxon elegies for The Earth's Embrace (1999), premiered by the London Symphony Chorus at the Cheltenham Festival, and Lynne Plowman used his Beowulf for The Return of King Raedwald (2001), premiered by the London Mozart Players. Bernard Hughes has used his retelling of The Death of Balder, first performed by the BBC Singers at Spitalfields Festival, (2006)
With Stephen Paulus, Crossley-Holland wrote 'Pilgrim Jesus' for the Festival of Nine Lessons and Carols at King's College, Cambridge in 1996. His poems have also been set (as single songs and song cycles) by William Drew-Battye, Donald Betts, Steve Heitzeg, Anne Kilstofte, Nicola LeFanu, Jon Payne, Tom Smail, Giles Swayne and by his own late father, Peter Crossley-Holland.
Bob Chilcott has set four of his carols, (Hyperion CDA67650 and SIGCD311) and an extended nativity chorale, My Perfect Stranger (OUP and Signum), first performed by the BBC Singers in 2016.  He joined forces with Cecilia McDowall to write A Time for All Seasons (OUP, 2016) for the 40th anniversary of the Harlow Chorus, and an anthem commissioned for the 150th anniversary of Barnardo's, As Each Leaf Trembles (OUP, 2016), first performed at St. Paul's Cathedral.  They are now working on a cantata, The Girl from Aleppo, for the National Children's Choir. This work is based on the astonishing journey in a wheelchair from Syria to Germany of the teenager Nujeen, pushed by her elder sister Nasrine.  This will be premièred in August 2018.