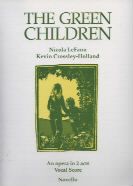 Kevin Crossley-Holland has written the libretti for two operas by Nicola LeFanu, as well as collaborating with a number of other composers on carols, song cycles and larger scale choral works.
The first opera was The Green Children (1989), commissioned by King's Lynn Festival supported by English National Opera's Baylis programme. This full-length opera for children is based on a haunting East Anglian folk tale.
'a piece of ravishing beauty: its text shimmers from end to end with incantations, children's rhymes and its riveting medieval legend. LeFanu's inspired music encases a rich variety of styles and proved a sheer joy.                             'The Times Educational Supplement
Since its premiere, The Green Children has been performed in St. Paul, Minnesota (conducted by Philip Brunelle); Bristol Opera Society; York University; Buxton Festival (a full opera house production); and most recently at Summer Music on the Shannon in Limerick in Ireland.
Commissioned by the Aldeburgh Festival, Crossley-Holland's second opera with LeFanu was The Wildman, also based on a medieval East Anglian folk tale. The opera explores language, identity and intolerance – the title role was sung by the baritone Gwion Thomas. Following its premiere in 1996, it has been performed at Bury St. Edmunds, Oxford, Huddersfield and at the St. Magnus Festival in Orkney.
In addition to these works, Kevin wrote the libretto for The Sailor's Tale, a short opera revolving around the character of Nelson, composed by Rupert Bawden. It is scored for the same orchestral forces as Stravinsky's The Soldier's Tale, with the addition of a children's chorus, and was first performed by the Yorke Trust in 2002. It is available as a CD(NMC D093).
Kevin's poems were first set to music when he was a student at Oxford by James Harpham, and then by Sir Arthur Bliss (A Knot of Riddles, 1964). Like Bliss, William Mathias used Crossley-Holland's translations for his Riddles (1992) while James Callahan set his version of The Dream of the Rood (1994), Andrew Simpson drew on the Anglo-Saxon elegies for The Earth's Embrace (1999), premiered by the London Symphony Chorus at the Cheltenham Festival, and Lynne Plowman used his Beowulf for The Return of King Raedwald (2001), premiered by the London Mozart Players. Bernard Hughes has used his retelling of The Death of Balder, first performed by the BBC Singers at Spitalfields Festival, (2006)
With Stephen Paulus, Crossley-Holland wrote 'Pilgrim Jesus' for the Festival of Nine Lessons and Carols at King's College, Cambridge in 1996. His poems have also been set (as single songs and song cycles) by William Drew-Battye, Donald Betts, Steve Heitzeg, Anne Kilstofte, Nicola LeFanu, Jon Payne, Tom Smail, Giles Swayne and by his own late father, Peter Crossley-Holland.
Bob Chilcott has set four of his carols, (Hyperion CDA67650 and SIGCD311) and an extended nativity chorale, My Perfect Stranger (OUP and Signum), first performed by the BBC Singers in 2016.  He joined forces with Cecilia McDowall to write A Time for All Seasons (OUP, 2016) for the 40th anniversary of the Harlow Chorus, and an anthem commissioned for the 150th anniversary of Barnardo's, As Each Leaf Trembles (OUP, 2016), first performed at St. Paul's Cathedral.  They are now working on a cantata, The Girl from Aleppo, for the National Children's Choir. This work is based on the astonishing journey in a wheelchair from Syria to Germany of the teenager Nujeen, pushed by her elder sister Nasrine.  This was premièred in August 2018.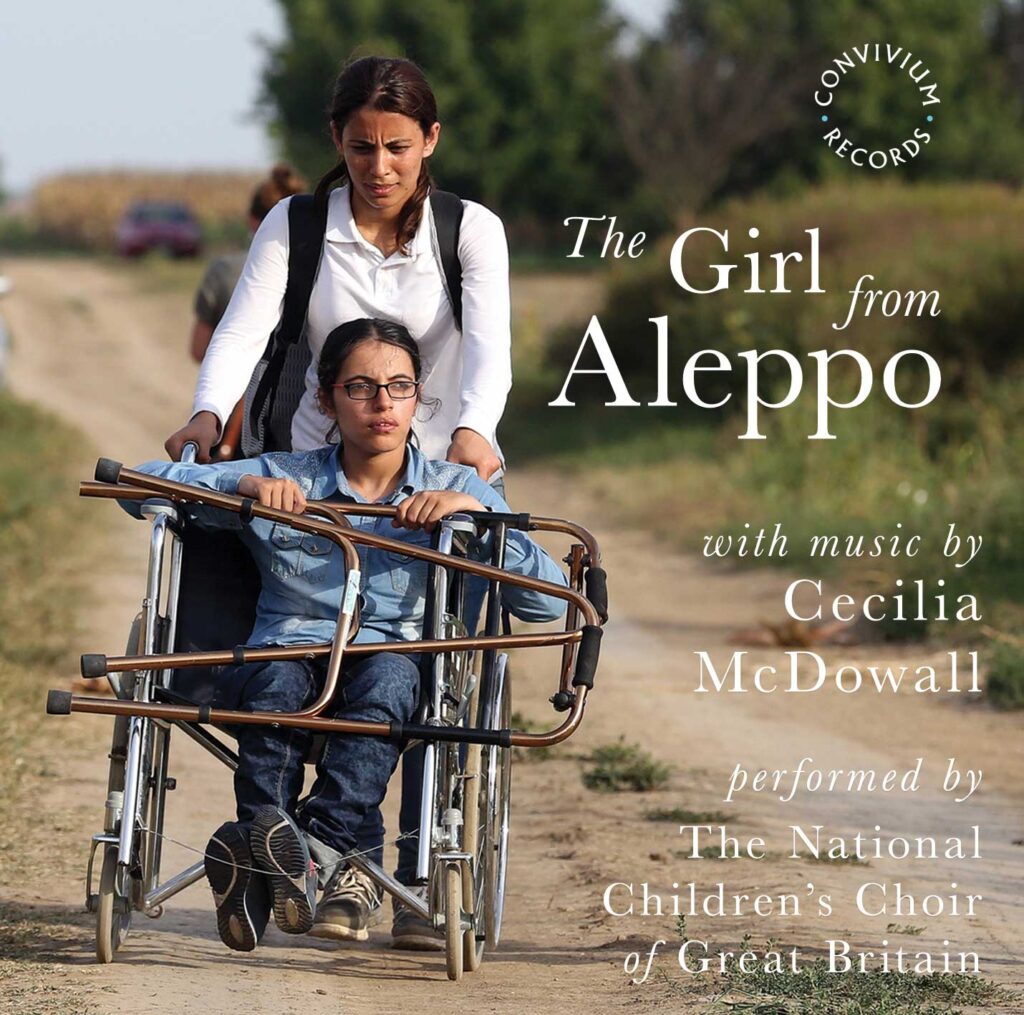 Music inspired by or protesting appalling wartime events is nothing unusual, for example, Martinů's Memorial to Lidice, Schoenberg's A Survivor from Warsaw, Penderecki's Threnody to the Victims of Hiroshimaor even Alfred Janson's A Baghdad Blues (Not for Blair, Not for Bush). Cecilia McDowall's cantata The Girl from Aleppo(2019), to a fine libretto by the distinguished author Kevin Crossley-Holland, joins a fine tradition, therefore. McDowall's inspiration is not like the impressive forebears listed above, but a very personal one, centred on the extraordinary story of the Kurdish refugee, Nujeen Mustafa, a onetime resident of Aleppo in Syria. (The work therefore has a connection to John Pickard's remarkable trio for flute, viola and harp The Gardener ofAleppo, recently released on BIS, CD2461). Driven from her home by the devastating civil war, Nujeen—despite suffering from cerebral palsy—trekked over 3,500 miles to find refuge and a new life in Germany.
The cantata is structured as a suite in five movements, which traverse the emotional journey of Nujeen as a Kurd and disabled teenager (Orphans of the World), through the terrors and events of her escape from the civil war (Thousands milling at the border; I'd never seen the sea beforeand A lost tribe pushed from border to border) to sanctuary in a new country (Everyday Wonders). It was written, very appropriately, for the National Children's Choir of Great Britain who sing with real fervour and wonderful ensemble throughout. The accompaniment is provided by violinist Harriet Mackenzie and pianist Claire Dunham. Mackenzie's playing is thrilling throughout, her experience playing in the crossover Kosmos Ensemble (try their marvellous CD 'Pomegranate' on the Nimbus label, NI6378) put to excellent expressive use here. At only 19 minutes long, this CD single is well worth a listen.
Guy Rickards
I greatly enjoyed listening to this new 5 movement cantata, commissioned from eminent British composer Celia McDowall by the National Children's Choir of Great Britain and conducted by Dan Ludford Thomas on this premiere Convivium recording.
With words by Kevin Crossley-Holland the cantata is based on a book of the same name written by Christina Lamb and Nujeen Mustafa, whose real life story it is. A useful note in the booklet contextualizes the work and the narrative, necessary, as, in a work of only 20 minutes, it would be impossible to deliver every nuance of the original book. Crossley-Hollands and McDowall make good choices of some notable moments in the overall story to hang the movements on.
Overall the performances are very strong with haunting and powerful solo material from Harriet Mackenzie (violin) underpinned with excellent piano accompaniment by Claire Dunham. The writing for the youth choir is very appropriate in that the music allows them to have great impact whilst being mindful of their ranges and technique level. There is a nice mixture of vocal effects (wind in movement one, the waves in movement three), unison and divisi upper voices writing and an SATB movement allowing the young tenors and basses to also feature. Throughout the music is characterized by relatable melodies which make the text very clear. Full marks to conductor and choir trainers as The National Children's Choir of Great Britain give us a great sound throughout regardless of texture or rhythmic complexity.
The music has different moods – haunting in the opening violin solo, sometimes energetic and fearful (4. A Lost Tribe…) at other times lilting (3: I'd Never Seen The Sea Before…) and finally celebratory in the final section. This is a very emotional piece, dealing as it does with migration and disability and the impact , whilst gentle at times ,is strong in revealing it's messages. The opening chorale 'this wreath of words is what we have…', reprised at the end, connects the act of singing and words to the intensity and pain of the original story without making light of, or in anyway undermining it. The Girl From Aleppo is a work in which the desires, fears, uncertainties and courage of Nujeen Mustafa and her family are properly represented and sung throughout with genuine feeling and emotion.
Will Todd