NORSE TALES : STORIES FROM ACROSS THE RAINBOW BRIDGE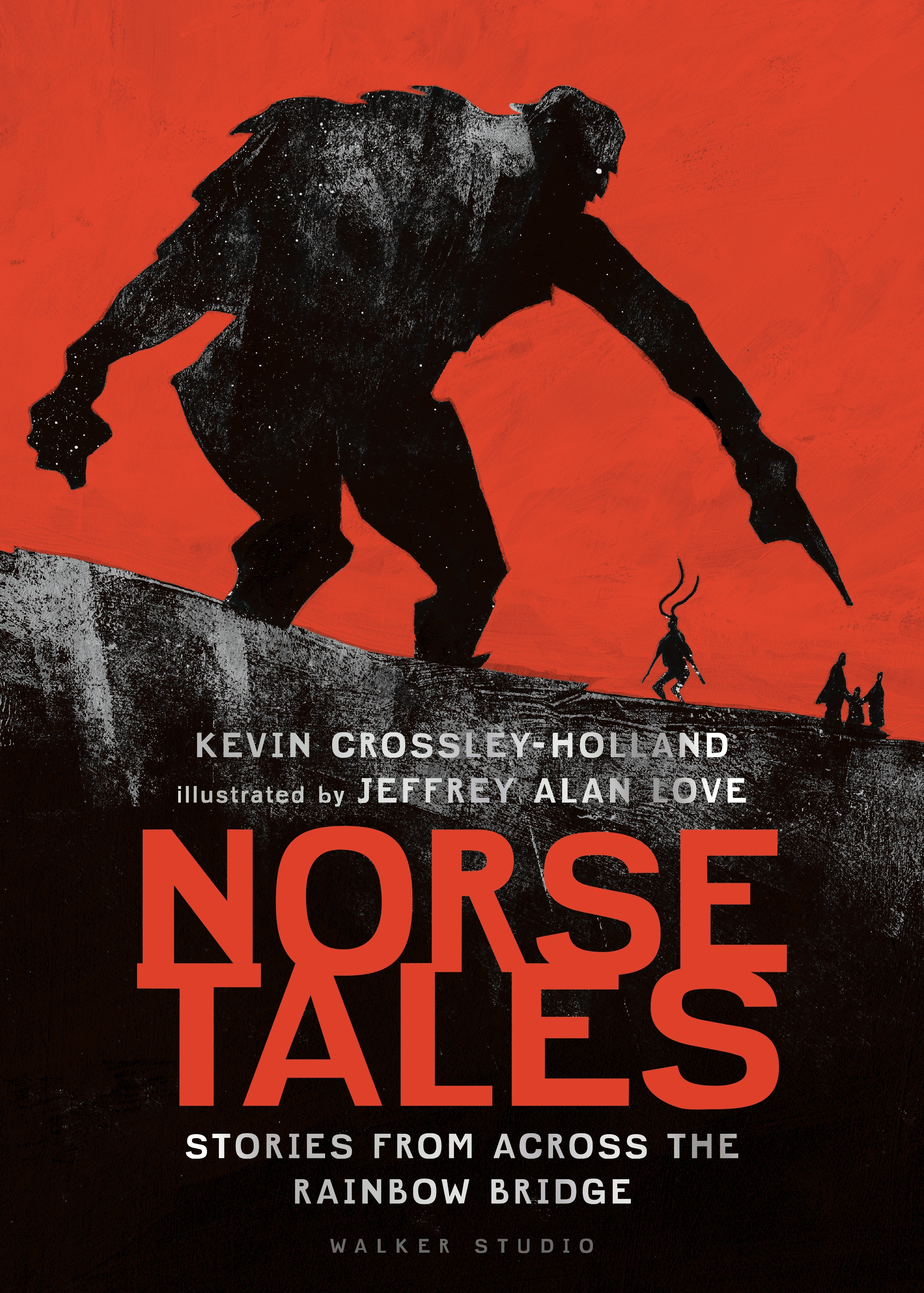 In these dark months of the pandemic it's been hard to find anything much to be delighted by. As we approach the dark winter depths what everyone needs is a pick-me-up and that's just what came in the post to us this week courtesy of the wonderful Kevin Crossley-Holland.
What was in the package? A beautiful copy of Norse Tales: Stories from across the rainbow bridge which is the splendid companion volume to the 2017 publication, Norse Myths: Tales of Odin, Thor and Loki.
There is simply no-one to match Crossley-Holland when it comes to translating the world of myth into a contemporary prose that is able to capture the imaginations of younger and older readers alike. These books are always marketed as books to be found in the 'children's' or 'young adults' sections but I think they are books for everyone regardless of age.
Just to underline that point, here at the Letterpress Project we gave Norse Myths an enthusiastic review and, now that the author and illustrator have been reunited, the second instalment was certain to be another dose of visceral excitement and aesthetic pleasure. And so it proved to be. I sat down with it and gobbled it up in a sitting.
What you'll find collected here are five tales that demonstrate the richness of the Norse folk tradition and the range of moods and emotions they can scope – from the delightfully blood-curdling to the touchingly sensitive and all stops along the way. These are tales that illustrate the way the boundary between different realms of being can be dissolved – gods, trolls, ghosts and mere mortals find themselves coming together in Middle Earth where they play out some extraordinary stories of life, death, greed and loss.
I'm clearly not going to tell you the content of the five stories we have served up to us here because you're going to want to come to them fresh and open to the delights you'll find by reading them yourself. But what I do want to say something about is the quality of the writing, the prose poetry and the lightness and certainty of touch that Crossley-Holland brings to all his work. It's a master-class of storytelling that will keep you riveted to the page whatever your age.
And, as if that wasn't enough, we also have the extraordinary power of Jeffrey Alan Love's illustrations to marvel at. This is form and subject perfectly matched. Black silhouettes march across single and double page spreads and all is occasionally highlighted by blocks or slashes of muted colour.
This is a perfect example of why the illustrated book is much more than the sum of its parts.
But I want to leave the last words to the author himself who gives us this insight into why we should still think of the myths as having contemporary relevance – maybe in these dire times more than ever:
"These Norse myths assert the great importance of family, and of equal partnership between a man and a woman. They show the value of having true friends; the need to work hard; having a dream, having ambition; having a sense of humour and being able to laugh at yourself; facing up to challenges; and being brave when its not easy to be. All this, and an awareness of the sheer beauty of the world around us, and of being alive…"
I can't add anything to that.
Get along to your local independent bookshop and buy yourself a copy of the book and maybe add its companion volume, Norse Myths, to the mix – it's money well spent.
Terry Potter
December 2020
BETWEEN WORLDS:  Folktales of Britain & Ireland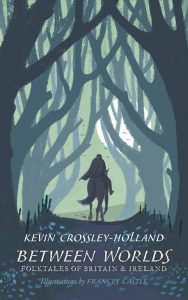 Winner of The Mal Peet Children's Award at the East Anglian Book Awards, 2019
NO ONE conjures up the dark mystery and traditional roots of British folklore better than poet and Carnegie Medal-winning writer Crossley Holland.  Here he collates 50 tales told across the generations from every corner of the United Kingdom and Ireland, with dire warnings and funny characters, moral lessons and outrageous storylines.  With shadowy, evocative
illustrations this is a wonderful volume for the whole family to curl up with on a cold winter's evening.
Daily Mail
"Perfect fireside reading."
Chosen as one of the Financial Times' top Young Adult books of the year.
Tis the season of folk tales.  Even in the 21st century our thoughts turn to traditional tales as the dark, cold nights of winter take hold. The once-upon-a-time fairytales might become glitzy pantomimes, but the stories of magic, heroism and transformation have been told for centuries.
One of Britain's greatest collectors and tellers of stories is Kevin Crossley-Holland and this winter the north Norfolk author has brought together some of his favourite tales. And alongside the old stories of fairies and changelings, foolish kings and wise peasants, rooted in our rural past, he smuggles in some more modern mysteries, saying many urban myths are simply the latest reincarnation of folktales.
"Stories connect the past to the future," he said. "They enable us to look back and forwards and to make sense of the extraordinarily complex world in which we live." Some of his earliest memories are of his father, saying and singing the old stories of East Anglia, Wales and Ireland, while playing a Welsh harp.
Now Kevin is a grandfather, and still loves the telling and retelling of stories.
One of his favourites in his latest collection is the 900-yearold tale of the Green Children of Woolpit, near Bury St Edmunds, who are discovered green-skinned and green-haired, speaking a strange language and eating nothing but green beans.
"It's an imaginative, haunting, lyrical, melancholy story. What comes through most of all is the
resilience of humans, and our ability to laugh at ourselves," said Kevin.
A favourite Norfolk folktale is the story of the Pedlar of Swaffham, who goes to London to seek his fortune, only to return and find treasure beside the church in his own town. The Pedlar donates part of his new
fortune to build a new church aisle and spire. "Like all the best folk stories it works on several levels," said Kevin. "It tells us that we have to go on a journey to appreciate the treasure we have at home, and that if we don't follow our dreams we won't find treasure. Or is it telling us to give our money to the church?!"
There are also tales of a fearless Norfolk girl who tricked a ghost, Tom Tit Tot who was Suffolk's Rumplestiltskin, a merman at Orford, and the underwater villages of the East Anglian coast.
All his life Kevin has loved the between-sky-sea-and-marsh landscape of the north Norfolk coast.
He and his wife Linda live near Burnham Market and his stories merge past and present, fusing the magic of fairytales into real places.
Rowan Mantell  –  Eastern Daily Press
"….. a magnificent collection of folktales."
Chosen by Imogen Russell Williams as one of the top books of 2018 in The Guardian
"Between Worlds is one to keep, and Kevin Crossley-Holland's clean bright direct language is the reason it's a keeper."
Society for Storytelling
NORSE MYTHS: Tales of Odin, Thor and Loki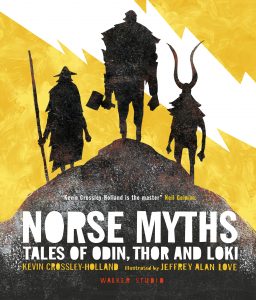 Kevin Crossley-Holland, master storyteller and winner of the Carnegie Medal, brings the gods of the Vikings to life as never before in these extraordinary new retellings, lavishly illustrated by Jeffrey Alan Love.  Meet Thor with his hammer, Odin with his one eye and Loki the trickster.  From the creation of the nine worlds to the final battle of Ragnarok, this stunning collection brings you one of the greatest and most culturally significant stories in the world.  Whether you're a fan of Norse mythology or new to this world of ancient magic, gods and giants, this is an unforgettable collection retold and imagined by one of the literary greats of our time.
'Kevin Crossley-Holland is the master'  Neil Gaiman
What are the Norse myths exactly?  Clock's ticking.  Phew, lucky that Kevin Crossley-Holland, the Carnegie medal-winning author and poet, presumes ignorance from the start in this magnificent anthology. 
In the foreword of his book  –  a perfect Christmas present for little warriors everywhere  –  we learn that the Vikings believed that humans inhabited Midgard (Middle Earth) and shared it with dwarfs and giants.  Above Midgard lived the gods in the realm of Asgard, and below Midgard was the third level, the world of the dead, ruled over by a woman whose body was half alive and half a corpse. The axis of these three levels?  A colossal ash tree, which everything alive depended on: the Tree of Life.  A man in Iceland called Snorri Sturluson (expect guffaws) eventually wrote down these myths, which Crossley-Holland read as a child and became entranced enough to write his own versions in adulthood.   It's impossible not to be captivated by these extraordinary characters, aided by Jeffrey Alan Love's tremendous pictures of gods and goddesses, dwarfs and giants.  Crossley-Holland, who has translated Beowulf and is an expert in Norse mythology, is a natural storyteller who wears his learning lightly.  He writes beautifully, dramatically and accessibly, whether he's telling the story of one-eyed Odin, Thor's mighty hammer or tricky Loki with the flaming hair.  There is a helpful glossary at the back that allows you to tell your Aegir (the god of the ocean) from your Ymir (the first giant, made of fire of ice).   
At the end of the book the three mysterious wise kings  –  High-One, Just-as-High and Third  –  speak: "Tell these stories yourself and for as long as our worlds last, people will retell them.  Make what use of them you can."  If they were still around to give dust-jacket quotes, they would effuse about these revived versions.  Instead, the writer must make do with a modern literary deity, Neil Gaiman ("Kevin Crossley-Holland is the master").  He's not wrong.                                                                                                                                                                                                                                                           Alex O'Connell – The Times, Children's book of the week
In Britain, Roger Lancelyn Green's Myths of the Norsemen (1960), and in America Ingri and Edgar Parin d'Aulaire's versions of the same (1967), revealed a mythology that stimulated a generation, among them authors such as A.S. Byatt and Michael Chabon.  From Tolkien to Rick Riordan, from Catherine Fisher to Cressida Cowell, its subversive tropes have permeated popular culture.  Most recently, Francesca Simon's The Monstrous Child used the myth of Hel, goddess of the Norse Underworld, to riff on disability; George R.R. Martin's A Song of Ice and Fire (dramatized as A Game of Thrones) relies on Ragnarok.  Thanks to Marvel the Norse gods are even familiar superheroes.
An acclaimed author, poet and translator, Kevin Crossley-Holland has previously written The Penguin Book of Norse Myths, but this new volume is for younger children of eight and over.  A master storyteller, Crossley-Holland switches his prose without apparent effort from the formal and poetic to the informal and conversational, adding dynamism and detail.  There are jokes, arguments, boasts and unforgettable images generated by Crossley-Holland such as a hall in the kingdom of the dead where there are "plates and knives and spoons on the black tabletops, all made of glistening jet".  Beautiful Balder is murdered by a tender sprig of mistletoe, sharpened by Loki and flung by Balder's blind brother.  Each story is short enough to read before bedtime but long enough to contain drama, wonders and yet another triumph for the gods.
It is the humour, moral ambiguity and inescapable impetus towards tragedy that makes Norse myth so unusual.  As we destroy our own planet, it is no wonder these themes resonate.  To this, Jeffrey Alan Love's pictures add a monumental grandeur.  Love's craggy black silhouettes stamp a graphic power, mystery and dynamism on every page.
These tales will always terrify and entrance the young.  They are exactly what many children most enjoy reading about.                                                                                                                                                                                                                                                                   Amanda Craig, Times Literary Supplement
Kevin Crossley-Holland's Norse Myths: Tales of Odin, Thor and Loki (Walker Studio) will delight both the newcomer and the Norse aficionado, instantly immersing its reader in the tragedy and treachery synonymous with the Scandinavian pantheon.  Crossley-Holland's well-forged words, which feel as right in the mind as a sword's hilt in the hand, are the perfect medium for these bloody, compelling tales, with their rich poetry ("Freya wept.  Each of her tears was an almond of pure gold") interleaved with Jeffrey Alan Love's iron-dark, silhouetted images.                                                                                                                                                                                                                                                       Imogen Russell Williams, The Guardian review, Children's roundup
'Crossley-Holland uncovers not only words but an entire landscape which haunts and is rich in echoes'                                                                                            Helen Dunmore, The Observer
                                    'Kevin Crossley-Holland retells old folk tales better than anyone else alive'                                                                                                                Lynn Gardner, The Guardian
                                  'A beautifully illustrated doorstopper of an anthology… a thrilling narrative.'                                       Emily Bearn, The Oldie                
                   '… Kevin Crossley-Holland's and Jeffrey Alan Love's rendition of Norse Myths is the best of many recent versions for children aged nine and above.  With fiery, lyrical prose and shadowy, sinewy illustrations, this is a wintry marvel of doom, hope, cruelty and imagination.  A serious gift, which will be reread many times over.'    Amanda Craig, New Statesman
'The recently released film Thor: Ragnarok might be one introduction to Norse mythology, but for a masterly version, which is also a splendid object, by Norse Myths: Tales of Odin, Thor and Loki, which features Kevin Crossley-Holland's resonant retellings of "fast moving, ice-bright" stories of gods and goddesses, dwarfs and giants, of Nifheim, Midgard and Asgard.  It is powerfully illustrated by Jeffrey Alan Love using monolithic black shapes touched with primary colours.  It is spectacular and enjoyable, as well as essential cultural bedrock.'                                                                                          Nicolette Jones, Sunday Times
The much-acclaimed Norfolk-based author and poet Kevin Crossley-Holland has turned to some of the most significant myths in the world for his latest book.  Complemented by Jeffrey Alan Love's powerful illustrations, the author has retold some of the Norse myths collected by the far-sighted Icelander Snorri Sturluson in the early 13th century, who feared they would be lost.  These are powerful, elemental, tales of one-eyed chief of the gods Odin, the warrior Thor, and the trickster (and treacherous) Loki and their battles against the remorseless giants.  They're thrillingly and marvellously retold.                                                                                                                                                                                                                                 Trevor Heaton
'If your children loved the recent Marvel movies featuring Thor but haven't heard the original Norse legends before, this compendium of new retellings by Kevin Crossley-Holland would be an excellent place to start.  Jeffrey Alan Love's lavish, atmospheric illustration is absolutely stunning and captures the darkness and magic of many   of these stories, while remaining modern and full of impact.  Fantastic.'                                                                                                                                                                                 Booktrust
Crossley-Holland's inspired text is straightforward and largely unadorned in a way that makes it timeless. Meanwhile, Love's eye-popping expressionist illustrations, rendered in acrylics and ink, decorate almost every page, beautifully creating an often sinister atmosphere that expands the tone of the text. Together words and pictures work to memorable effect, doubtlessly inspiring their young readers to yell and cry. The myths have seldom been better served.
Booklist
The brutal, mischievous, and fascinating stories of Norse mythology unfold in lively and dramatic retellings, which introduce the gods and goddesses of Asgard, as well as the dwarves and giants of Midgard and Jotunheim.                                                                                                                                                                                                                                                                                                                           Publishers Weekly 
Twenty tales of gods, giants, and dwarfs, of mighty feats and epic trickery…the tales are…powerful in emotional resonance–not to mention chock-full of bold deeds, glittering treasures, and scary monsters. Lavishly illustrated and strongly atmospheric–as well suited for reading aloud as alone.                                                                         
                                                                                              Kirkus Reviews
Bold illustrations dominated by dark colors and intimidating shadows accompany each tale in this indispensable collection of Norse myths…Each story begins with a one-sentence summary of the myth's message, providing a useful tool for engaging students in lessons about summarizing. This is an essential purchase for middle and high school collections.                                                                                                                                                                                                                                                                              School Library Connection
Kevin Crossley-Holland is a master storyteller who over the years has been the definitive re-interpreter of myth from many lands – making the stories live for children and adults alike. This isn't the first time he's explored the Viking heritage and I've personally always thought that the Norse myths are the most thrilling and most immediate. Crossley-Holland tells them here with an economy of style, using straightforward narrative and eschewing complexity in favour of the simple recounting of stories. It all looks so easy but writing like this takes years to master and you know you're in very safe hands when you don't even have to think about the act of reading and you can just let the tales sweep you along.                                                                                                                                                                                                                                 The author has also been kind to us – he doesn't assume we know anything about the Norse gods and their, inevitably, complex set of inter-relationships. To help us along he gives us a really useful who's who and a cunning guide to the universe of this particular mythology and I found the graphic that shows us Yggdrasill (the tree of life) and the three layers of existence, along with the inhabitants of those lands, incredibly valuable in terms of understanding who relates to who.
All mythologies and creation stories share common features and I suspect that like me you'll find yourself spotting these but this is most certainly not an academic treatise about Norse mythology; it's a collection of fabulous and exciting – sometimes brutal and sometimes bloody – stories that you'll want to read either because you kind of half know them or because they're completely new to you and thrilling because of that.
I have some personal favourites – The Death of Balder that tells of a death foretold by dreams, the death of the most noble of the Gods. Crossley-Holland is also a pretty fine poet in his own right and we can see that come through in the text:
'On the foreshore, everyone watched. Gods and friends of gods, foes of gods, the merely curious, they all knew that unless Hel would agree to let Balder come home to Asgard, his death – the death of the handsome god who cherished and protected whatever was beautiful, and patient, and innocent in the nine worlds – must bring closer their own death-day.'
Here Crossley-Holland doing what he always does so well – finding the universal truth in the myth.
I also loved Thor Regains His Hammer and, of course, The Last Battle when fate must have its way. One of the really great little touches here is the way the author has prefaced each of the tales with a moral which flows naturally from the story. The moral for The Last Battle being:
No-one can deny Fate. Her gifts are unearned and her punishments undeserved.
The cast of characters is also irresistible and each one of them has a personality you'll recognise – they may be gods but they're also all of us too. We probably know many of them – the steadfast and dependable Thor; the cunning trickster, Loki; gentle and caring Balder, Odin the Allfather and Frigg his wife. But there are plenty we don't know and should – Idun, keeper of the golden apples of youth; Sif, Thor's wife; or, the dwarfs Fjalar and Galar who brew the mead of poetry.
Fabulous stuff in the very literal meaning of those words.
But that's not all. This book also gives us the stunning illustrative work of Jeffrey Alan Love. Working on the big scale he uses what looks like a block or lino printing technique to create dark and menacing images. His use of the occasional slash of red colour or the tingeing of green gives the drawings a startling added dimension.
This is a gift book that will just keep giving and I'd say it's an ageless book in the sense that it isn't for children or adults but for both. Give it to someone but don't just wait for Christmas – get it now!                                                                                         Terry Potter, The Letterpress Project
There's something about the vast wilderness of Scandinavia, and the ancient mythology it produced, that captures the imagination of people across the world. We see elements of it all over modern pop culture. On TV we have the hugely successful Vikings series, not to mention Norse elements of cult favourite Game of Thrones; on our cinema screens we have the Thor films of the Marvel juggernaut, and the continued success of adaptations of Tolkien books. Almost a millennia after they were first told and recorded, the stories of Norse mythology still play on our minds. Kevin Crossley-Holland sums up their appeal in the foreword to his newly released book, Norse Myths: Tales of Odin, Thor and Loki.
Readers will find a cyclical and perhaps even repetitive nature to these stories.   This sense of repetition is one of the hardest nuts to crack in terms of bringing myths to modern readers. While an essential part of the mythic structure, it can be hard to translate into a narrative that readers today will find compelling. Fortunately Crossley-Holland carries this off masterfully. 
Crossley-Holland carefully crafts the sense of foreboding in this collection, and he uses the repetition in the stories to bolster this.  Just as the gods cannot seem to resist the lure of Loki's aid, so too do they seem irresistably drawn to actions that will bring them closer to their doom. 
Throughout the book, Crossley-Holland also demonstrates his knowledge and appreciation of the language of the original myths. This is most evident in his wordplay, which echoes the kind of humour often found in the Eddic texts.
'He swung it again and killed Thrym's elder sister. She had asked Thor for a dowry of gold rings but he gave her ringing iron.'
This sentences captures the fierce violence of the stories, as well as the black humour that is frequently found in Old Norse writing. However, Crossley-Holland also blends in more modern elements of levity and humour.
This sense of mischievous glee brings a lightness to the stories. It is this combination that makes these stories so appealing, the Norse gods are certainly beings of immense power and importance, but they are also very relatable—they are temperamental, stubborn, playful, and likeable. While their problems and adventures are in this heightened mythic setting, their reactions seem much like our own would be. That Crossley-Holland conveys this in a way that is faithful to the original myths but also accessible to young readers today reflects both his passion and nuance as a scholar and his skill as a storyteller.
Beyond the practicalities of representing the stories, Love's illustrations are also stunning works of art. The silhouettes are given a rough texture that is reminiscent of rock surfaces, evoking the Scandinavian landscape. These are juxtaposed against bold blocks of primary colours. This contrast echoes the mythic depictions on Greek vases, with their black figures moving across a terracotta backdrop.
The combination of Kevin Crossley-Holland's text and Jeffrey Alan Love's art make this a real treasure of a book. It is an excellent rendering of the Norse myths, and one which will certainly draw in children's interest, but will also be hugely appealing to interested adult. Crossley-Holland works his usual magic in making these stories clear and accessible, while still retaining the sense in the original myths of their subversive danger and elusive attraction. As Neil Gaiman proclaims on the cover of this book 'Kevin Crossley-Holland is the master.' Norse Myths is sure to become as much a staple of children's literature as his previous work, and Love's artwork make this truly an object for families to treasure.                                                                                                                                                                                                                   Rachel Sherlock, Bookwitty
Super news from the U.S. as the Wall Street Journal selects Norse Myths: Tales of Odin, Thor and Loki, as one of the 13 Children's Books of the Year under the banner – The Best Children's Books of 2017.  Philip Pullman returns to Brytain, Kevin Crossley-Holland tells "Norse Myths", John Green goes "Turtles All the Way Down".
                                                                    Excerpts from Amazon reviews
Bought this for my kids but just had to read myself first. It's brilliant and I'm so pleased. My son's already lived the first two stories
This is one for little (and big) vikings. The stories are accessible and concisely written. Evocative, atmospheric illustrations make this something to treasure.
Wow! Bought another copy after receiving the first! Beautifully illustrated and larger than expected book!
I loved how this takes the complex myths form Norse Mythology and condenses it and makes it more accessible for a younger audience.
I loved how this takes the complex myths form Norse Mythology and condenses it and makes it more accessible for a younger audience
This is a brilliantly executed book that covers so much information that I can see children talking about these myths, gods, goddesses, realms, long after they have closed the book.
Told in an almost whimsical, fairy tale way whilst still adequately portraying some of the brutality of the hammer-wielding, creepy one-eyed and trickster Gods, this anthology plunges you into a world of crazy creatures and magical monsters in a way which just sticks with you. And actually, for quite a large collection, the stories move along at a really great pace and don't become too bogged down with facts; rather, they are woven into the tale cleverly and more delicately than a typical "educational" text.
A real master of mythology – it's like watching a movie, only much much better, as any good book should be.
This book is very fast paced and contains a lot of information. Its the type of book that once you get into it you just cannot stop and then you reach the end and think actually i rushed this and need to go back to delve in to find more. In terms of classroom use, i would say this book would be ideal in capturing the attention of boys who may not usually be keen to read.
I was obsessed with Greek mythology as a child. I loved the stories of the gods and goddesses and their dealings with mankind. Lately, other mythologies have made headway into the mainstream again – with the Marvel movies, the Magnus Chase (Rick Riordan books) – and these are dark stories, just as entrancing, exciting and cinematic.
Kevin Crossley-Holland, known for many historical children's books and anthologies combines the two here to bring us a wonderfully illustrated collection of the Norse Gods, from their creation story to those told of each God, some famous and some I'd never heard of.
I liked the way the titles came with little lessons underneath: Vengeance… Expect those you've wronged to try to settling the score.
I loved the black(/white/red) illustrations, sometimes a page wide, that gave a dark, gritty and graphic novel feel to the tales. These are not fairy tales, though they are full of the staples of them – giants, magic and powerful beings.
Very easy to read, primary-aged students will not struggle to read or listen to these, especially as a very detailed glossary is included (colt and keg make appearances alongside the unfamiliar names). The very useful 'family tree' at the start (names and relationships of the Gods) was very handy to get to grips with before starting as well.
An epic story of Odin and Norse mythology animated with a shadowy and dark imagery.
This book is a great starting point if you are interested in Norse myths it certainly won't offend anyone this is slowly becoming one of my books of the year and it is definitely worth looking at.
This is a truly stunning book and one which will be enjoyed by not only kids but adults too. 'Norse Myths: Tales of Odin, Thor and Loki' is a large hardback book about A4 in height but a bit wider and is filled with thick matt pages. The paper is the heavy kind making this a weighty book to hold and I'd advice putting it down while reading it. There are stunning illustrations just like the ones on the cover that give this book and the tales told within an interesting and dark atmosphere.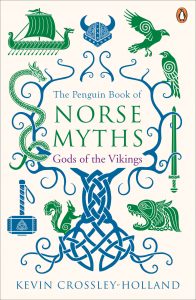 When my sister Sally and I were children, my father used to come and sit by our bunk with his Welsh harp, and sing-and-say stories to us: stories of heroes and heroines, princes and paupers, fairyfolk, fabulous beasts, a king sleeping inside a hill…
Later, I learned to distinguish between the different layers of traditional tale (myth, legend, folk-tale), and I've devoted much of my writing life to studying and retelling them – in particular, the tales of northwest Europe.
In fact, it was my desire to engage full-bloodedly with Norse mythology that led directly to my relinquishing my job as editorial director at the publishing house of Victor Gollancz in 1976. After visiting Iceland, I worked for four years on the glorious, racy, ice-bright myths, and the book that resulted from it (in the UK, The Penguin Book of Norse Myths and in the USA, The Norse Myths published by Pantheon in their Fairy Tale and Folklore Library), has now sold strongly for thirty-five years.
To begin with, I retold single folk-tales as picture-story books (The Green Children, The Callow Pit Coffer, The Pedlar of Swaffham) but later I graduated, if that's the right word, to collections. These include my British Folk Tales (later reissued as The Magic Lands), Tales from the Old World and The Old Stories: Folk Tales from East Anglia and the Fen Country.
As co-author, I worked with the Welsh poet and children's writer Gwyn Thomas on three volumes of stories from the Mabinogion; as librettist, I collaborated with the composer Nicola LeFanu on two operas based on traditional tales, The Wildman and The Green Children, both set in the Middle Ages, and both concerned with identity, rejection and acceptance; while as editor, I compiled two anthologies of Northern tales for Faber, The Young Oxford Book of Folk-Tales and Folk-Tales of the British Isles. This anthology aimed to represent the full range of British tales and contained introductions to the tales and their collectors.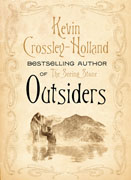 One story has haunted me all my life: that of the two green children discovered at Woolpit in Suffolk at the end of the 12th century. I've revisited it several times and, in the version published by OUP, told the story from the viewpoint of the green girl. The way in which one retells a tale is of course crucial, and I have subsequently retold several tales as monologues. These are gathered in Outsiders (Orion), and in this book 'Sea Tongue' is a kind of sound-story, a fractured narrative spoken by all the different elements in the tale.
During the last two decades, there has been a marked increase in interest in the Viking world, not least because of the National Curriculum, and in October 2017 Walker Books in UK and Candlewick in USA published my completely new version of the Norse myths for children (Norse Myths : Stories of Odin, Thor and Loki) with illustrations by Jeffrey Alan Love. In autumn 2018, Walker will publish a new edition of my British Folk Tales with colour illustrations by Peter Melnyczuk.  And they and Candlewick will follow this in 2019 with a new one-volume Arthur containing six legends, fully illustrated by the great Chris Riddell.  We are already at work on this book.